Danish Industry recognizes Pascal's initiative
Published Nov 09, 2018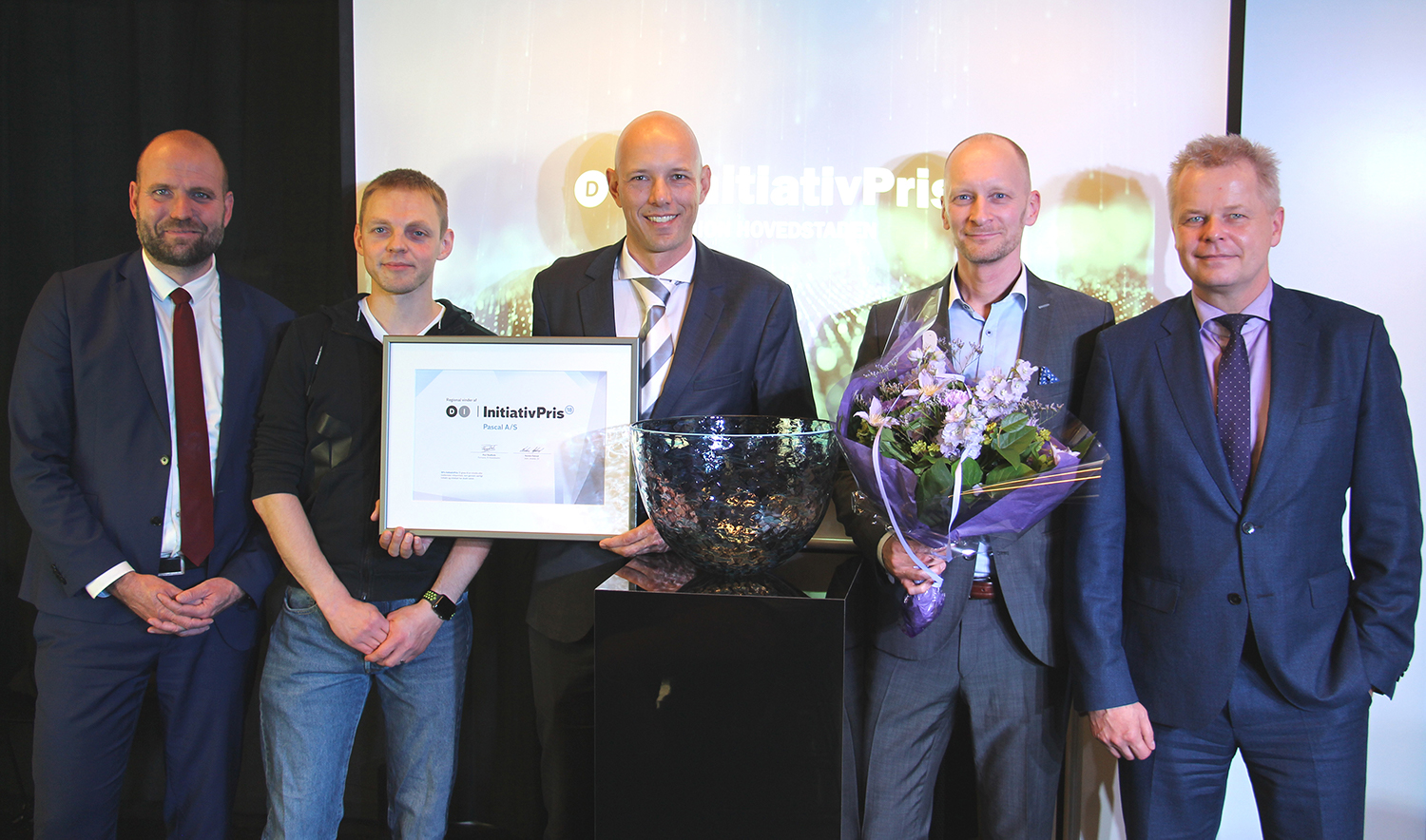 (L) Thomas Gyldal Petersen, Mayor of Herlev district Greater Copehagen (where Pascal is based) and (R) Poul Skadhede, Chairman of the Confederation of Danish Industry capital region, with the founding directors of Pascal A/S; (L-R) Jesper Lind Hansen, Senior R&D Specialist, Lars Rosenkvist Fenger, CEO, Peter Frentz, VP of Business Development.
While those in the know in pro audio manufacturing are increasingly aware of Pascal's extraordinary rise, in becoming the world's leading provider of amplifier electronics to the industry, the company's success is increasingly being recognized throughout the wider business community in its native Denmark.
Last month the capital region of the Confederation of Danish Industry added its Initiative Award 2018 to a succession of recent accolades acknowledging the company's remarkable growth and performance, and exceptional organizational and workplace culture.
The CDI award, for the capital region of the country, representing 3,000 of its 10,000 national membership, recognizes initiative and creativity in the small and medium enterprise (SME) sector, specifically among companies comprising less than 100 employees. This year an additional criteria was included in the selection process; one of demonstrating 'special courage to scale', in undertaking initiatives involving radical changes to meet future growth demands.
12 years ago Pascal's founding directors identified a market opportunity in a demand for dedicated power amplifier modules, optimized for professional audio loudspeaker applications, that was not being met. Now the company leads the market in the design, manufacture and supply of such devices, with proprietary technology, and products that offer best-in-class performance, efficiency and reliability; and counting the world's leading manufacturers of professional self-powered loudspeaker systems among its growing client roster.
From the outset the company adopted an avowedly team based organizational culture, with personal development, learning and cooperative involvement at its core; where growth is primary objective. The company's eighth hiring was its HR manager; precisely to ensure a positive, inclusive working environment, and to cultivate a strong growth culture and symbiosis between personnel and corporate development.
"Our sense has always been that it must be both fun and productive to go to work," says CEO Lars Rosenkvist Fenger. "As a measure of our success in creating a company that truly fulfills that ideal, in 12 years only five people have ever left to work elsewhere. And now we are a team of 40 people."
Last year PwC awarded Fenger its 'Theme Prize' for 'Talent & Technology', in the greater Copenhagen region, for his leadership in shaping that culture. A culture that continually produces innovative thinking and practices, whether in product innovation, market development, or the distinctive 'partnership' business model the company devised as a means of both disrupting the market and offering new levels of client service.
Pascal exhibits a remarkable agility in growing existing markets and in approaching new ones. Over the past six years it has experienced a 51 percent year on year rate of growth, and boasts a financial performance that ranks it among the top 1 percent of the highest performing companies in the country. Having twice outgrown its operating base, in the 12 years since it was founded, it started this year by completing a 55% expansion of its current HQ in the Herlev suburb of the capital. Last month the company announced its entry into a new business sector, with the development of a comprehensive range of dedicated modules for rack amplifier designs; targeting both live sound and integrator / installation markets.
Poul Skadhede, Chairman of the Confederation of Danish Industry capital region explains: "Pascal is a predominantly export driven venture, where 99% of product is shipped to export markets, and where financial returns are being heavily reinvesting in new products, markets and facilities; thus showing a 'special courage to scale'."
Pascal Audio – Initiative Award 2018 from Pascal Audio on Vimeo.