Pascal is a Great Place to Work®
Published Dec 20, 2019
World leading pro-audio electronics manufacturer accredited by Best Workplaces™ programme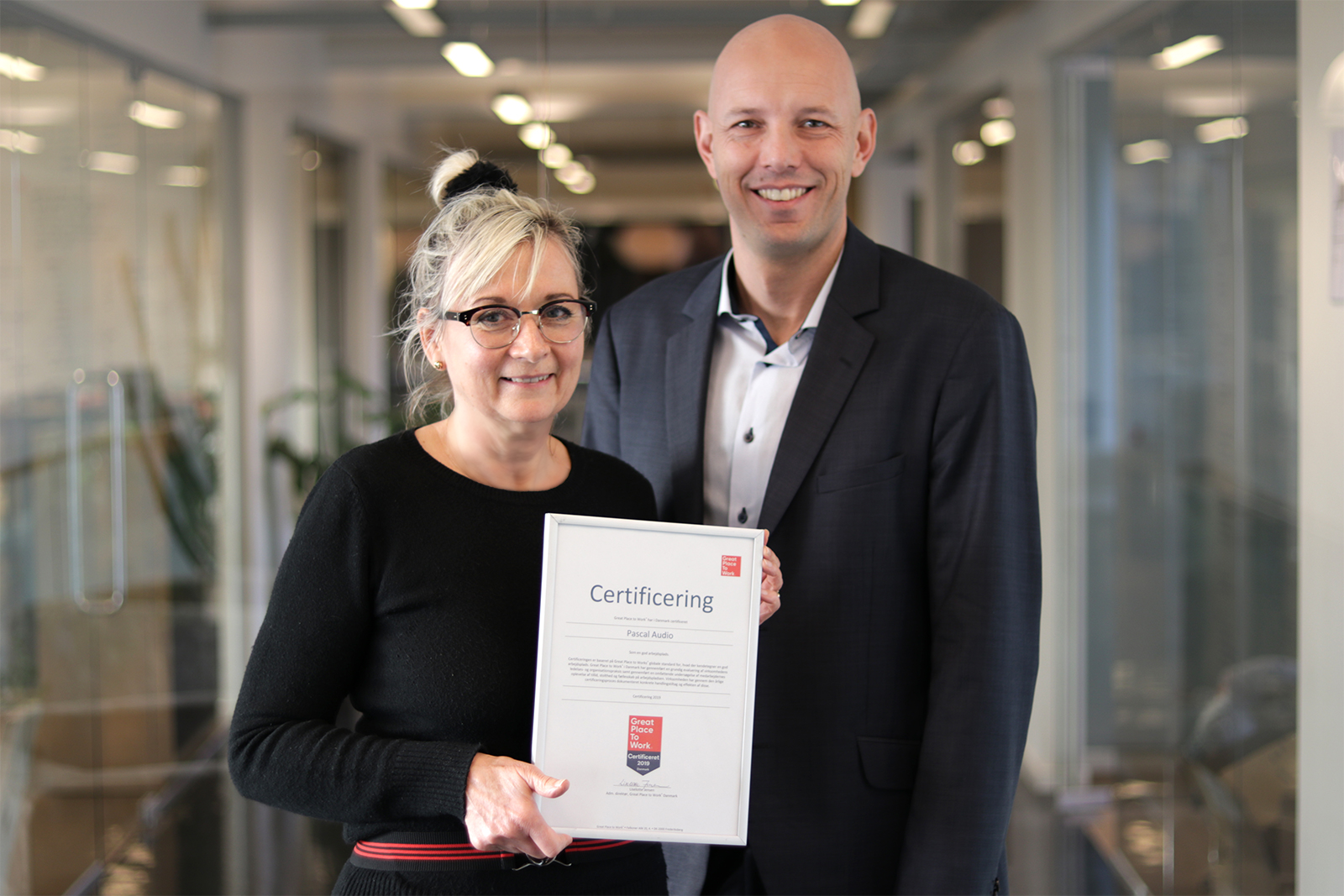 The Best Workplaces™ international accreditation programme requires a company to undergo an intensive two part assessment process; namely the Trust Index® survey and the Culture Audit®. Meeting a specific scoring threshold, relative to the size of the company measured by its number of employees, earns it a Great Place to Work listing.
Pascal's Head of HR, Birgit Jensen, initiated putting the company forward for accreditation. "Internally there has long been a strongly held common feeling that Pascal was a good workplace. Our objective was to have that belief impartially audited and to benchmark Pascal against other workplaces in Denmark," she says.
The Trust Index anonymously surveys all employees' levels of satisfaction and has a 2/3 weighting in aggregate scoring, while the Culture Audit is prepared by an external consultant, reporting on the basis of interviews with selected employees, HR and the CEO, as well as describing everyday workplace practices. This means employees play a principal role in gaining accreditation, effectively voting a company a Great Place to Work; something that makes accreditation especially significant in terms of recruitment, growth and the acquisition of new business.
"Being listed as a Great Place to Work publicly elevates our status as an employer and reinforces our recruitment campaigns to attract the best available candidates," Jensen continues. "The type of candidates we are looking for typically come from larger companies. Accreditation provides recognition of Pascal's long standing focus on well-being as a fundamental value, to the same or greater extent than many of the country's largest and most recognised companies and international corporations.
"The nature of the work environment is of ever increasing importance in attracting these candidates and this certification helps – it is a quality stamp for a good working environment."
Pascal likewise believes certification has an important role to play in retaining talent over the long term, and ultimately a significant influence on maintaining and improving competitive advantage.
"We have been heavily focused on creating a positive and supportive work environment from our earliest days as a startup," says CEO Lars Rosenkvist Fenger, "For Pascal it is a core value. I think we can claim to have been successful in creating an employment culture that is highly cooperative, team based and that engenders and supports personal development. We have an extraordinary low level of staff turnover. To continue to strengthen and further extend that culture, as we undergo rapid growth, we have to promote that aspect of our success story to the wider world and our target recruitment markets.
"Pascal is widely recognized as standout commercial success, both at home and internationally within the professional audio market in which it operates. To further that success, we also need to be known more widely as an amazing place to come and work. Accreditation as a Great Place to Work is a landmark achievement in that respect."