Pascal presents a line up of key staff on the occasion of its 7th Børsen Gazelle
Published Jan 07, 2020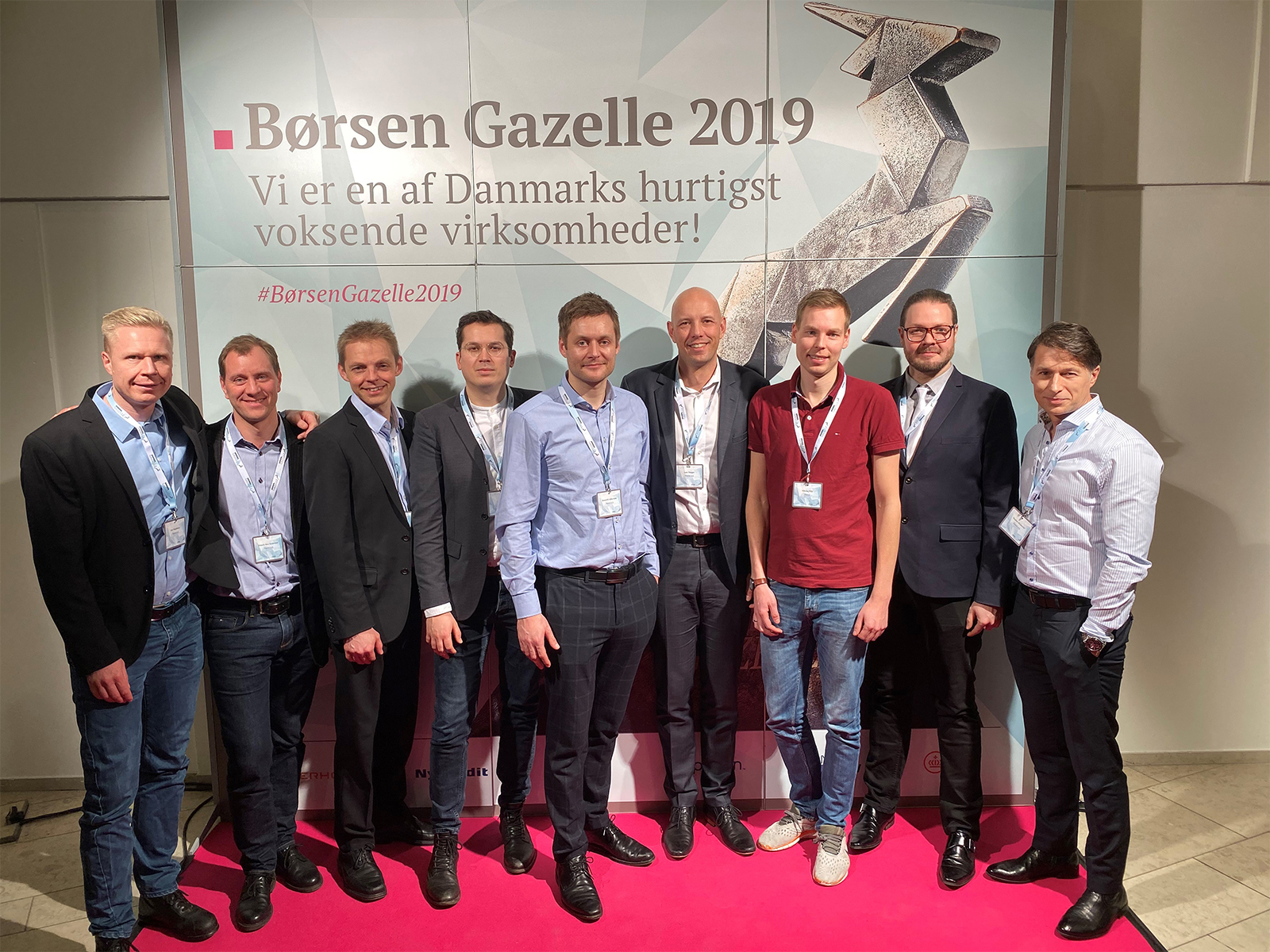 Accepting Pascal's 7th Gazelle: (L–R): Jon Hagedorn (R&D Eng), Dennis Roy Andersen (Sn R&D Eng), Jesper Lind Hansen (CTO/co-founder), Daniel Grønbæk Jørgensen (Quality Man), Kenneth Tambjerg Albertsen (Project Man), Lars Fenger (CEO/co-founder), Nikolaj Pihl (Key Acc Man), Rasmus Pforr-Weiss (R&D Eng), Vladan Zivanovic (Purchase Man)
On the occasion of the award of a seventh consecutive Børsen Gazelle, by the leading Danish business daily newspaper, Pascal invited a select group of nine key staff to accept the honour, in recognition of the central role of its employees in the 10 years of continuous and exceptional growth a seventh award represents.
A Gazelle award is bestowed on a company that has consecutively doubled its turnover or gross profit over four years. A seventh award, therefore, recognizes Pascal achieving either or both of these metrics successively over four consecutive years, for the last 10 years. Last year Børsen inaugurated the additional elite status of 'Marathon-Gazelle' for companies nominated for four Gazelles in a row; a category to which Pascal was immediately elevated.
CEO and co-founding director, Lars Rosenkvist Fenger states, "On the occasion of a seventh Børsen Gazelle, we are celebrating a decade of continuous stellar performance by our company, in becoming the world's leading provider of amplifier electronics to the pro audio industry.
"We invited a party of nine key employees to accept the award on behalf of all of us, in recognition of their additional personal contribution to our continuous growth in these years. A majority of these employees have been with the company throughout the years of achievement recognised by Børsen."
Of the nine invitees, Dennis Roy Andersen, is actually a former Senior R&D Engineer, having recently left the company after more than ten years with its R&D team.
"Among several outstanding characteristics that set Pascal apart from a mainstream corporate business model," continues Rosenkvist Fenger, "is our incredibly low employee turnover.
"As a struggling start-up, we quickly identified the vital necessity of a strong HR strategy, as key to creating rapid sustainable growth; both in identifying and recruiting the most suitable people to the company, and in developing a positive and supportive workplace culture to ensure retention over the long term. Even when, like Dennis, people move on, they remain a part of our extended family."
The exceptional growth in performance recognised by a seventh Gazelle – becoming a double-digit million-euro annual turnover company in less than 10 years – places Pascal well inside the top one percent of the highest performing Danish companies; and that in a country ranked as the world's fourth most productive developed economy.*