Pascal nominated for DANISH HR award
Published Sep 10, 2019
This year Pascal is among the four nominated finalists for the DANISH HR award. The award is accorded annually to a company that has made an extraordinary effort or achieved particular outstanding results in the field of human resources by DANISH HR, the country's largest independent professional, network-based HR organization.
Pascal is nominated alongside some of the country's largest and successful international companies: Atea, a market leader in business and public sector IT infrastructure, with over 7000 employees and 4000 consultants throughout 87 offices located in seven countries; Danfoss Drives, a global leader in developing, manufacturing and supplying high-quality application-optimized AC drives, with almost 6000 employees and worldwide sales offices in over 50 countries; and Kromann Reumert, Denmark's leading law firm, with offices in Copenhagen, Aarhus and London, employing almost 550 people. "As head of HR at Pascal, I am incredibly proud that Pascal is among such a stellar list nominees for the award this year," says HR Manager Birgit Jensen.
The winning recipient will be announced on the 3rd of October.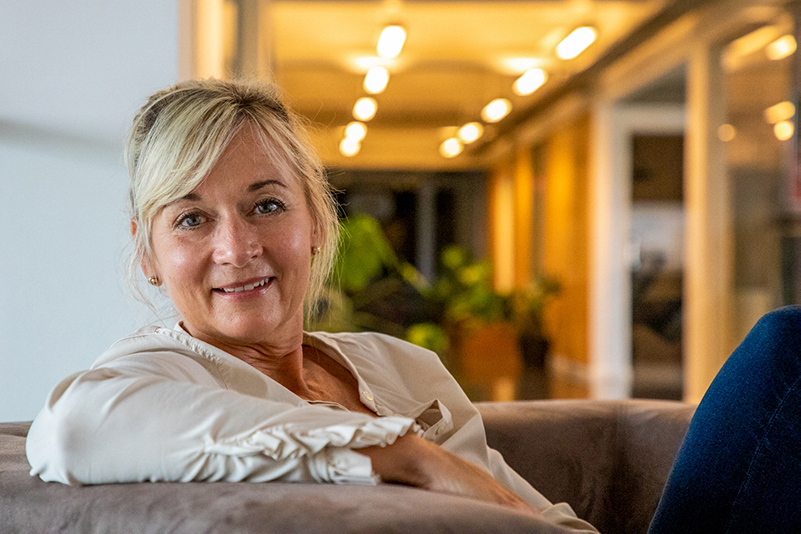 HR Manager Birgit Jensen
People before everything else
Commenting on the nomination of the company's HR department for the award, Pascal CEO Lars R. Fenger stated, "This is the story about how people come before everything else, in terms of sustainable growth, management strategy, and business and organizational development."
At Pascal it is a fundamental management credo that personal development creates opportunities for organizational growth and strategic development, not the reverse. This is most obvious for a company during startup. When resources are constrained you critically must surround yourself with creative and capable people. People who can innovate and adapt, and effect disruptive change in the market. It is also a fundamental approach to be more highly valued in larger companies. "Starting out with and continuing to attract talent with the most appropriate skills for transformative change," says Birgit, "remains crucial for growth; ensuring it is a journey that everyone undertakes together." It is a role she has fulfilled within Pascal, almost from the very beginning, having joined the company as its eighth employee.
In recruiting the right profiles, Birgit is mindful that, in addition to the requisite professional skills and qualifications, she is also looking for the candidates with a personality profile compatible with the company's organisational values of growth, learning, understanding, responsibility and collaboration. It is essential that the candidate also has the temperament and characteristics suited to the particular team they will be joining, and processes an innate capacity for personal development. In engaging in high-level conversation, throughout the course of the selection process, she seeks to gain an informed and intuitive understanding of the candidate across the table.
Growing a company to achieve double-digit million-euro annual turnover, in less than 10 years, requires skilled managers who can identify, develop and nurture talented employees. A company undergoing rapid, high frequency change, is a company also experiencing tremendous organizational stress. At Pascal management has been equipped to handle the effects and potential consequences of rapid high frequency change within the organization, enabling it to provide support to employees in coping with and mitigating such consequences, while adapting to and developing within a dynamically changing work environment.
Providing managers with a clear and extensive wellbeing strategy, focuses efforts on the avoidance, alleviation and management of stress "Wellbeing as an HR strategy engenders employee confidence and assurance that the company is there to provide a safety net and ensure that no-one is left feeling isolated and vulnerable in the face of these forces," concludes Birgit.
Wellbeing as an HR strategy
HR is at the forefront programs and activities that help ensure wellbeing and employee satisfaction. An example of this is the 'Orbit campaign', a program in which employees from all departments compete and work together to devise initiatives and rules of best practice for stress prevention. The program is itself an employee initiative, devised and driven by the same employee. It exemplifies the culture of responsiveness to employee resourcefulness at Pascal.
High-performance teams in a positive and supportive work environment
Pascal's altruistic approach to its employee relations and organisational culture is an elemental founding company value. It has the objectives of creating a positive and supportive work environment, and of attracting and nurturing people with the particular personal skills compatible with a team based, collaborative operational structure.
Pascal is organisationally structured into high-performance teams that compliment one another on the basis of the different skillsets and talents that the individual employees bring to the company.
In less than ten years Pascal has grown to rank amongst top 0.07% highest performing companies. It has received Børsen Gazelle Awards six years in succession for its market leading economic metrics, the Herlev municipality's Team price 2019, Danish Industry's Initiative Award 2018, and Price Waterhouse Cooper's 'Theme Prize' for 'Talent & Technology' 2017; awarded to CEO Lars Fenger for his leadership of the company most successfully combining technical innovation and human development.
These recognise, in equal measure, the company's remarkable financial performance and the transformative role and value of its human resource.