Pascal reveals line up of dedicated amp modules for power amplifier designs
Published Sep 11, 2018
Complete range of amp modules optimized for live & installed sound applications
Pascal has unveiled a range of amplifier modules with features and performance optimized for integration within power amplifier designs, across the breadth of live sound and commercial and custom installation applications. A range of six modules enables both constant voltage (100/70 V) and low impedance output mode operation and a wide range power configurations; for half rack 1RU to full 19" 2RU form factors.  
 Depending on the combination of modules used within a power amplifier, it is possible to drive any share of the total power capability reservoir to any output stage. This offers installers and integrators complete freedom to drive exactly the required amount of power precisely where it is needed. This has a major operational advantage in addressing asymmetrical power requirements within a zoned installation, with the benefit of handling a wide range of different or changing power requirements from the same power amplifier. It also avoids paying for unutilized excess power in such applications, which otherwise require use of multiple, fixed rated power amplifiers. 
All modules in the range feature Pascal's plug-and-play 26-pin interconnect, making them inter-connectable to a single front-end I/O / DSP board design. A single front-end module can thus be used in multiple power amplifier design configurations, reducing the required engineering work across multiple product design projects. 
Pascal's proprietary UMAC™ Class-D technology provides the highest power density / lowest form factor ratio of any ultra-compact amplifier module design. Among the highest power rated modules in the world, they offer unmatched levels of sonic performance, quality, efficiency and reliability from a dedicated pro audio design. Premium sound quality, in a pro audio optimized amplifier, includes best–in-class signal-to-noise, distortion and dynamic range specifications. Exceptionally high voltage rails – and the ability to drive low impedance modes provide massive power headroom, for exceptionally high peak SPL ratings. 
All modules are equipped with comprehensive protection features and are designed on an 'audio-at-all-times' principle, rendering them fully self-protecting. Pascal amplifier modules boast the world's best system efficiency, minimizing requirements for heat sinks and cooling, and contributing to their unrivaled long-term reliability. 
Energy Star Compliant auxiliary power outputs, readouts and control signals are available to feed integrated DSP or analogue I/O boards. Advanced real-time readouts of protect/mute, temperature and clip signals are accessible for DSP and network control implementations, and I/O stages. 
UREC™ PFC power supply technology enables universal AC mains operation. Automatically adaptive to any mains voltage between 100 V and 240 V, the propriety high efficiency, compact power supply will deliver regulated power anywhere in the world.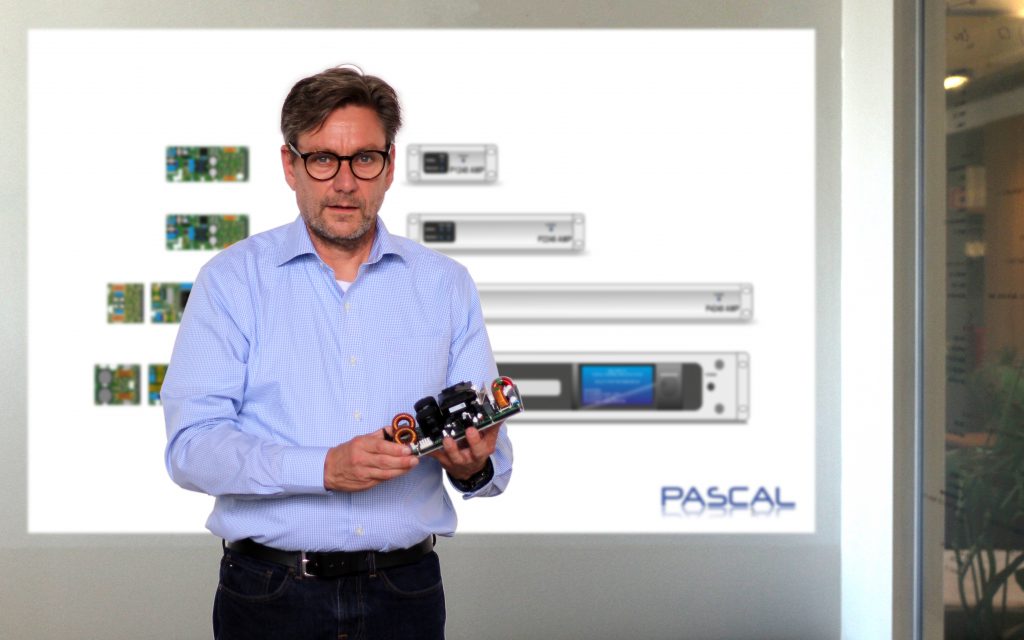 Michael Munch recently joined Pascal as Product Manager, a position he held for several years at LabGruppen. "Pascal is known as the leading provider of high power, highly reliable amplifier modules for self powered, pro audio speakers," he says. "It is a natural step for the company to help clients meet market requirements for more compact, more versatile power amplifiers, with a series of application dedicated amplifier modules. These modules offer the same standards of performance and reliability, with world leading power density and dynamic power ratings." 
See examples of possible power amp solutions: Solutions & Applications Overview