Pascal announced as winner of Success Company 2019
Published Oct 09, 2019
Pascal was named winner of the 'Success Company 2019' award for the Capital region of Denmark at a presentation event on 3 October at the Mogens Dahl Concert Hall in Copenhagen. The company was chosen by a panel of judges from a field of 200 nominee companies in the Copenhagen metropolitan area.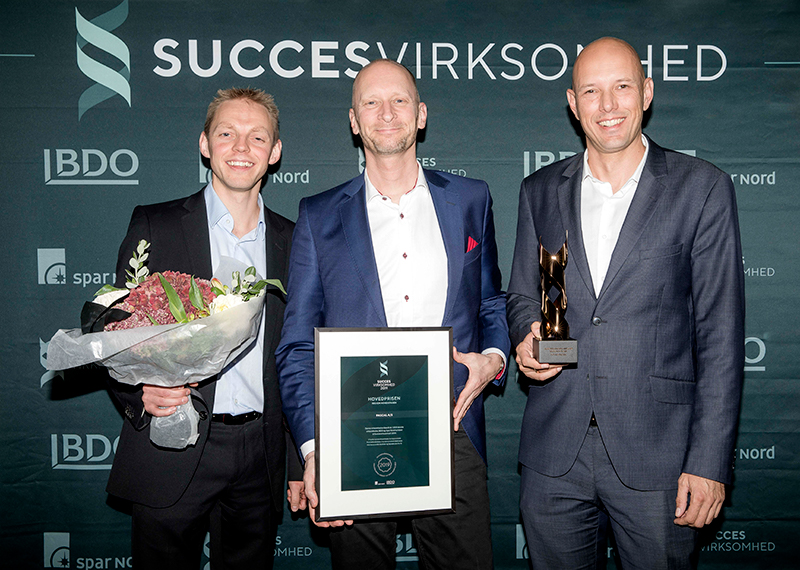 Pascal founding directors (L – R): Senior R&D Specialist Jesper Lind Hansen, Senior VP Business Development Peter Frentz, and CEO Lars Rosenkvist Fenger
Jointly sponsored by Spar Nord, one of Denmark's largest banks, and BDO, one of the country's largest advisory and accountancy firms, the award scheme identifies the top 1,000 companies – 200 from each of the country's five regions – in the country's small and medium enterprize (SME) sector experiencing the greatest financial success.
The Success Company 2019 closely follows Pascal's CEO, Lars Rosenkvist Fenger, being shortlisted for an EY Entrepreneur Of The Year® award, and a succession of regional and national business and industry accolades in recent years. These signify growing recognition of the company, not only as one of Denmark's most successful tech companies, but as being among its leading business enterprizes, now ranking among the top 0.07% highest performing companies.
The company is equally acclaimed for its innovative growth and customer relation strategies, and for its progressive team based workplace culture. Lars Rosenkvist Fenger's reflected this theme in his response to the Success Company 2019 award: "The foundation for winning the award as a Success Business 2019, we believe, is created by securing and investing in our largest and most important asset, our employees. It is why at the outset we chose to hire an HR manager, as only our eighth appointment. Such a hiring is an unusual priority for an engineering firm, but creating an inspiring and exceptional work environment, defined by strong values and vision, was for us fundamental to attracting the kind of people essential for building an innovative agile operation."
In a statement Jan Kjær, Managing Director for Spar Nord Copenhagen, says: "Pascal is not just part of the elite of just 200 companies in the Capital Region which deliver the most compelling financial results and thus qualify for the Success Company Award 2019. Pascal is also among the absolute top of those 200 companies, and thus represents the region's greatest success story. Pascal is an inspirational role model for other business enterprises and deserves the recognition that comes with the title of Success Company 2019."
In a relatively short period of time Pascal has received Børsen Gazelle Awards six years in succession for its market leading economic metrics, the Herlev municipality's Team price 2019, the Confederation of Danish Industry's Initiative Award 2018, and Price Waterhouse Cooper's 'Theme Prize' for 'Talent & Technology' 2017; awarded to CEO Lars Fenger for his leadership of the company most successfully combining technical innovation and human development.
The Success Company 2019 1000 nominees for the award selected from an initial pool of 350,000 companies with up to 1000 employees. The performance of each of those 350,000 companies analysed by reviewing a number of financial parameters – including continuous growth in profit and equity, return on equity and financial health, as reflected in the solvency ratio – to provide a final list of the 1000 elite Danish SMEs, deemed to have generated the highest continuous growth throughout a consecutive five year period, in a manner that provides a solid base for sustained future growth. The 200 nominated companies for the Capital Region were found to have generated total earnings of five billion Danish Kroner (735,100,000 USD) between them in the past financial year.